New Vals and Milonga workshop on December 17.
Place: Polish Hall, 4015 Fraser Street (entrance on E 24th Ave). Cost: $35 per person. Registration is required at: info@mediacorner.ca or 604-600-0657

When you are Master Tango,
you Master Life.
Argentine Tango Lab started in Vancouver with the idea to become a dance laboratorio` for all dance lovers who would like to learn the Dance of Embraces, Argentine Tango, in the way is taught in Buenos Aires.
The company was founded in 2011 and since then has been involved in various festivals, shows and events not just in Vancouver, but also in US, Europe and Buenos Aires, Argentina. Gabriel and Maria are offering group classes, private classes and workshops that are held through out.
NEW CLASS
New class series with Gabriel and Maria starting Sept. 23rd & 24th. All levels as well as techniques for followers & leaders Mond., Sat., Sun., & Thursdays.
MILONGA
Every Thursday starting from 7:50 pm – 10:50 pm, Polish Hall, 4015 Fraser St. Followers Technique class 7-8pm, all levels.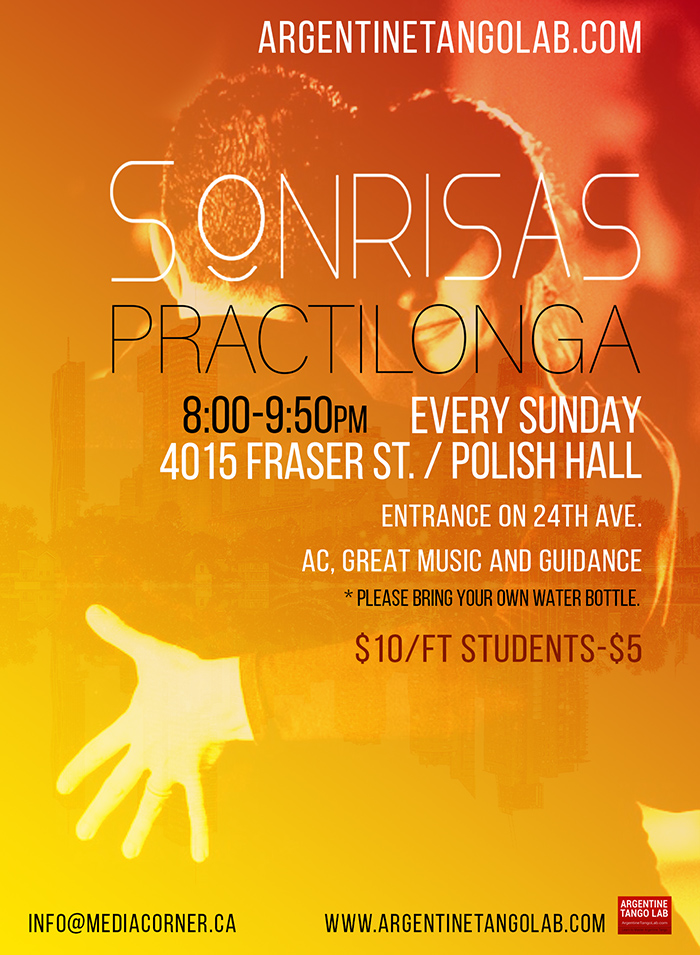 PRACTICA
Every Sunday from 8:00-10pm. All levels welcome and happy dancing to everyone. Guidance provided, just ask your questions and we`ll be glad to
Argentine Tango is our passion. It`s who we are.
Our approach is to share the experience we have and to help each student by personalizing our teaching and adjusting it to each person`s individual needs. We always start with correct and strong fundamentals that will build students confidence and elegance on the dance floor in any milongas. We focus on quality, connection and self expression in dance. It is important for us to create a warm and welcoming atmosphere for our students and, the more they advance, to challenge and encourage them to explore the possibilities in dance. The progress of our students matters to us which is why we carefully prepare our classes to ensure they will clearly understand the material of tango elements, musicality and improvisation. We are also running our weekly guided practica every Sunday to help students to improve their dancing. We strongly believe that each of us has a dancer inside us. We would love to share our passion with you and guide you on your journey of getting to know Argentine Tango.
Sincerely,
Gabriel & Maria